The
Power
to Move Australia
Battery Chargers 12V To 24V
This range of products are used to charge 24V auxiliary batteries from the main battery of a 12V vehicle and vary in features to suit the most common needs:
VDBC1224-20-NG-2 - 12V to 24V Booster/Charger Combo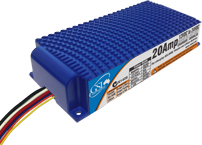 Next Generation VDBC1224-20-NG-2 - 12VDC to 24VDC Battery Charger/Booster
The VDBC1224-20-NG-2 joins our new NG series of units that uses the next
generation topology reducing the size and increasing the output power
compared to its previous VI and BC series of units.
In an extremely compact package (373cm³) the VDBC1224-20-NG-2
combines thefeatures of a doubler and a battery charger in a weather,
dust and vibration resistant package.

Features Include:
• Dual Option - 3-Stage 24V Battery Charger or Voltage Doubler
• Peak Output : 20A
• Selectable output voltages for Lithium (29.6V/27.6V), Sealed Lead
Acid (28.4V/27V), Vented Lead Acid (29.2V / 27V) or Doubler (25V/27V/28V)
• Over Current and Temperature protections for extra product reliability.
• High Efficiency : Typical >95%
• Precise under voltage protection : No need for external isolator.
• Latched overload protection for preventing dangerously charging faulty batteries
• Remote LED indication for battery charge status.
• Very low standby current: <3mA

For More Information:

• Refer to Leaflet or feel free to contact us

Installation Sheet

Product

VDBC1224-20-NG-2

Input Voltage

11.5VDC to 15.5VDC

Output Voltage (Doubler)


27V/25V/28V

Output Voltage (Charger)


Lead : 29.2V/27V

Sealed Lead Acid : 28.4V/27V

Lithium: 29.6V/27.6V


Load Regulation

± 1%

Output Power

420W

Stand By Current (Approx)

<3mA

Output Short Circuit Protection

No

Polymer Encapsulation (Waterproofing/Dustproofing)

Yes

Input To Output Isolation

Yes

Output Connections

6 Fly Leads

Dimensions mm (HxWxL)

32.3mm x 71.5mm x 162 mm

Weight

560g

Design and specifications may change without notice.