The
Power
to Move Australia
*Discontinued * MPPT30-2HV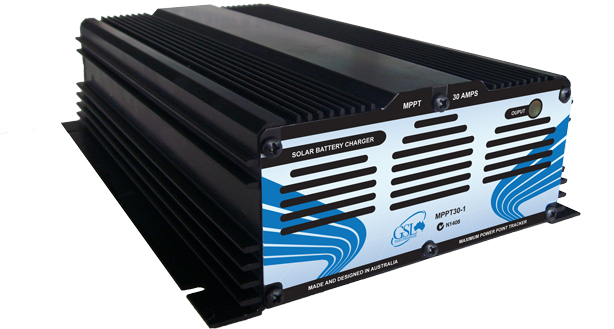 End of Life Product- Information below for archival purposes only. No new orders will be taken for these products.
Maximum Output 30 Amp / 1750 Watts
MPPT30-2HV:

• Ideal for charging batteries with new low cost and high efficiency grid type panels upto 160Voc
• Simple 3 terminal "plug and play" connection
• Autoselect for 12V, 24V to 48V panels and batteries
• Tri chemistry vented, SLA and Lithium batteries
• Built in load switch configurable as a variable dawn to dusk or low voltage disconnect
• Remote load control option and alarm
• Low voltage discontent
• Surge, PV short and reverse current protection
• Connectivity to the MCM product for Remote Monitoring and Control


MPPT30-2HV Installation Sheet


Specifications

MPPT30-2HV

Maximum Output Current

30A

Maximum Input Panel Power

1750W with 48V batteries
875W with 24V batteries
440W with 12V batteries

Input Voltage

18V to 160V

Battery Voltage

12 V / 24V / 48V or programmable 5V - 58V via MCM and GUI

Typical Efficiency

97%

Monitoring & Control

Yes (full via MCM)

Dawn to Dusk, LVD

or Remote Control

Yes programmable and enabled via MCM

PV Short and Surge Protection

Yes

Thermal Protection

Yes

Dimensions [LxWxH]

175 x 177 x 67 mm

Design and specifications may change without notice.